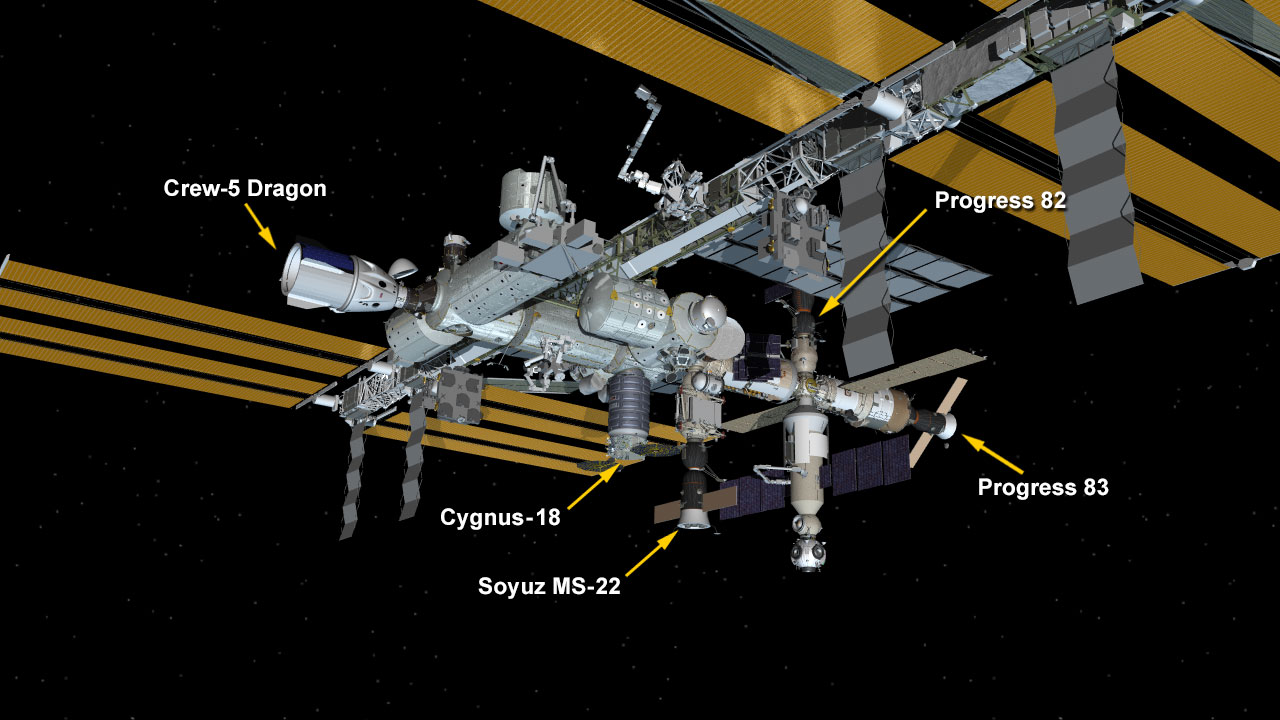 Engineers at the Roscosmos Mission Control Center continue to evaluate a coolant leak from its Progress 82 cargo spacecraft identified on Feb. 11. The cargo spacecraft has been docked to the station's Poisk module since October 2022. NASA has been assisting Roscosmos in collecting imagery of the Progress 82 using the Canadarm-2.
The launch date of the uncrewed Soyuz MS-23 replacement spacecraft to the International Space Station is under review. The Soyuz MS-23 spacecraft was slated to launch to the International Space Station on Sunday, Feb. 19, to replace the Soyuz MS-22 spacecraft after it suffered its own external coolant loop leak in December. NASA astronaut Frank Rubio and Roscosmos cosmonauts Sergey Prokopyev and Dmitri Petelin arrived at the space station aboard MS-22 in October, and are now scheduled to return to Earth aboard the Soyuz MS-23 spacecraft later this year.
Roscosmos engineers continue to investigate the cause of coolant loss from both the Progress 82 spacecraft and the Soyuz MS-22 spacecraft. The crew is continuing with normal space station operations and scientific research.
The seven residents that make up the Expedition 68 crew were busy midweek aboard the space station. The orbital septet worked its way through a host of space science, cargo operations, and lab maintenance.
The station scientists on Wednesday explored a wide range of microgravity's effects on humans and physics to understand the long-term implications of living and working in space. NASA and its international partners continue planning missions to the Moon, Mars, and beyond, that will require astronauts to sustain themselves with less support from flight controllers and visiting cargo missions.
NASA Flight Engineer Josh Cassada strapped himself to a specialized device and laid down inside the Columbus laboratory module on Wednesday. He then manipulated a controller in response to pre-programmed stimuli as a computer and video cameras recorded his responses. Researchers will use the data to understand how astronauts regulate their grip force and move their arms when manipulating objects in microgravity.
Cassada also took turns throughout Wednesday with fellow flight engineers Nicole Mann of NASA and Koichi Wakata of the Japan Aerospace Exploration Agency (JAXA) for a periodic health exam. The trio worked in the Destiny laboratory module measuring the vital signs including temperature, blood pressure, pulse, and respiratory rate. The data was recorded into a computer tablet using wearable sensors then downloaded to doctors on Earth. Wakata also continued packing the Cygnus space freighter with trash and obsolete hardware ahead its eventual departure.
Rubio replaced hardware components and experiment samples inside the Combustion Integrated Rack for a space fire investigation. That study explores fuel temperatures in microgravity and how it affects materials flammability. Results may inform advanced fire suppression techniques for space missions as well as Earth-bound facilities.
The orbital outpost's three cosmonauts kept up their contingent of research operations and maintenance activities as well. Prokopyev explored piloting techniques a future crew member might use to control a spacecraft or a robot on planetary missions. Petelin studied how to maintain sterile conditions in space during biological research and explored how international crews and mission controllers can communication better. Finally, Flight Engineer Anna Kikina focused her day on electronics and battery maintenance before configuring a student-controlled Earth observation camera.
---
Learn more about station activities by following the space station blog, @space_station and @ISS_Research on Twitter, as well as the ISS Facebook and ISS Instagram accounts.
Get weekly video highlights at: https://roundupreads.jsc.nasa.gov/videupdate/
Get the latest from NASA delivered every week. Subscribe here: www.nasa.gov/subscribe