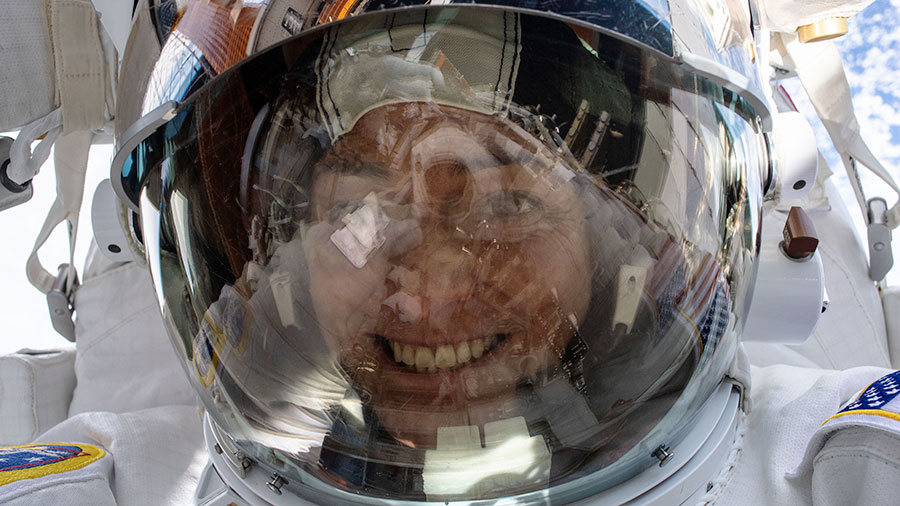 Four Expedition 68 crew members are off-duty today following last week's spacewalk to upgrade the International Space Station's power generation system. The rest of the crew is getting ready for a cargo mission due to arrive this week while continuing its ongoing cardiac research.
Four astronauts are relaxing today after a successful spacewalk on Thursday and all the preparations leading up to it. Flight Engineers Nicole Mann of NASA and Koichi Wakata of the Japan Aerospace Exploration Agency (JAXA) spent six hours and 41 minutes in the vacuum of space during the Feb. 2 excursion. The duo completed the installation of a modification kit on the station's starboard truss structure readying the orbital outpost for its next roll-out solar array.
The spacewalkers were assisted in the days leading up to last week's spacewalk by NASA Flight Engineers Frank Rubio and Josh Cassada. The two spacewalking assistants helped Mann and Wakata in and out of their Extravehicular Mobility Units (EMUs), or spacesuits, reviewed the mod kit installation procedures with them, and monitored the spacewalking job from inside the station.
The quartet will get back to work on Tuesday resuming their ongoing space research to advance scientific knowledge and demonstrate new technologies. The four astronauts will work throughout the week exploring human research topics such as how microgravity affects blood pressure in the brain and the cardiorespiratory system. They will also look at space agricultural techniques and study the behavior of fuels in microgravity.
A cargo swap is planned for this week when the trash-filled ISS Progress 81 (81P) resupply ship undocks from the Zvezda service module's rear port on Monday night. Next, the ISS Progress 83 (83P) cargo craft will launch at 1:15 a.m. EST on Wednesday then dock automatically at 3:47 a.m. on Friday to the Zvezda port vacated by the 81P.
Roscosmos Commander Sergey Prokopyev and Flight Engineer Dmitri Petelin prepared on Monday for the weekend arrival of the 83P. The cosmonaut duo practiced on a computer for the unlikely event they would need to use the telerobotically operated rendezvous unit, or TORU, and manually guide the resupply ship to a docking.
Flight Engineer Anna Kikina attached sensors to herself on Monday morning for a 24-hour cardiac monitoring session without interfering with her normal work schedule. The electrodes not only recorded her heart's electrical activity but also her blood pressure. Kikina then spent the rest of Monday on ventilation and communication maintenance tasks.
---
Learn more about station activities by following the space station blog, @space_station and @ISS_Research on Twitter, as well as the ISS Facebook and ISS Instagram accounts.
Get weekly video highlights at: https://roundupreads.jsc.nasa.gov/videupdate/
Get the latest from NASA delivered every week. Subscribe here: www.nasa.gov/subscribe