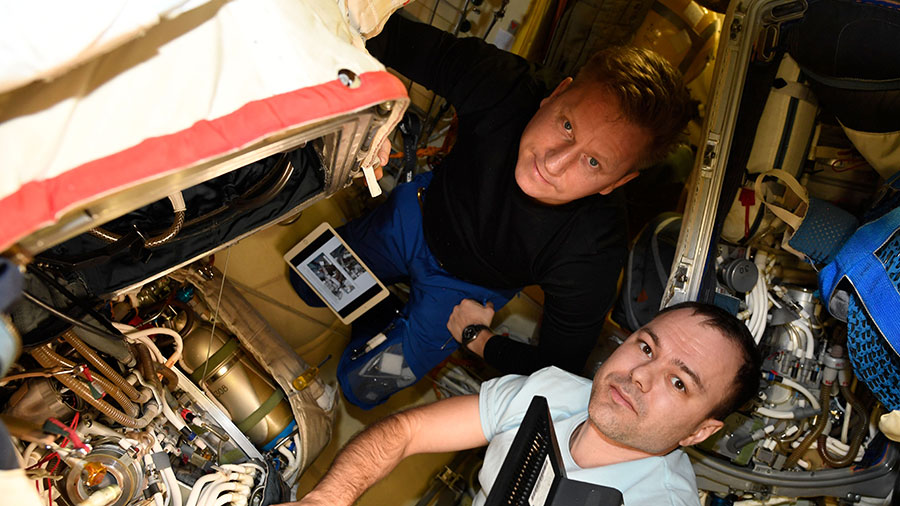 Two spacewalks are planned in the next several days outside the International Space Station for the Expedition 68 crew. Meanwhile, science was still ongoing at the beginning of the week with space botany and physics work aboard the orbiting lab.
On Wednesday at 9:20 p.m. EST, Commander Sergey Prokopyev and Flight Engineer Dmitri Petelin will exit the Poisk module's airlock in their Orlan spacesuits. They will spend about seven hours transferring a radiator from the Rassvet module to the Nauka multipurpose laboratory module. Flight Engineer Anna Kikina will be inside Nauka supporting the spacewalking duo by operating the European robotic arm.
Prokopyev and Petelin spent Monday getting their suits and the Poisk airlock ready for Wednesday's excursion. The duo configured their spacesuits' life support and communications components then collected and organized the tools they will use during the spacewalk. They also closed the hatch and performed leak checks on the ISS Progress 82 resupply ship which is docked to Poisk just outside its airlock. Kikina primarily spent the day on life support and ventilation maintenance.
NASA Flight Engineers Josh Cassada and Frank Rubio will have their spacewalk together on Monday, Dec. 19. They will install their second roll-out solar array, or International Space Station Roll-Out Solar Array (iROSA), on the Port-4 (P4) truss segment. They installed their first iROSA on Dec. 3 on the station's Starboard-4 truss segment opposite of the P4.
The two NASA astronauts spent some time on Monday reviewing the iROSA installation procedures and discussing the spacewalk with mission controllers on the ground. Flight Engineers Nicole Mann of NASA and Koichi Wakata of the Japan Aerospace Exploration Agency (JAXA) also participated in the review and the ground conference and will assist the two spacewalkers next week.
Cassada kicked off the workweek watering dwarf tomatoes growing inside the Veggie space botany facility for the Veg-05 experiment. Wakata transported physics research hardware from the Cygnus resupply ship to a research rack inside the Kibo laboratory module. Rubio collected carbon dioxide samples from life support hardware. Mann also assisted the cosmonauts helping them get their tools ready for Wednesday's spacewalk.
---
Learn more about station activities by following the space station blog, @space_station and @ISS_Research on Twitter, as well as the ISS Facebook and ISS Instagram accounts.
Get weekly video highlights at: http://jscfeatures.jsc.nasa.gov/videoupdate/
Get the latest from NASA delivered every week. Subscribe here: www.nasa.gov/subscribe