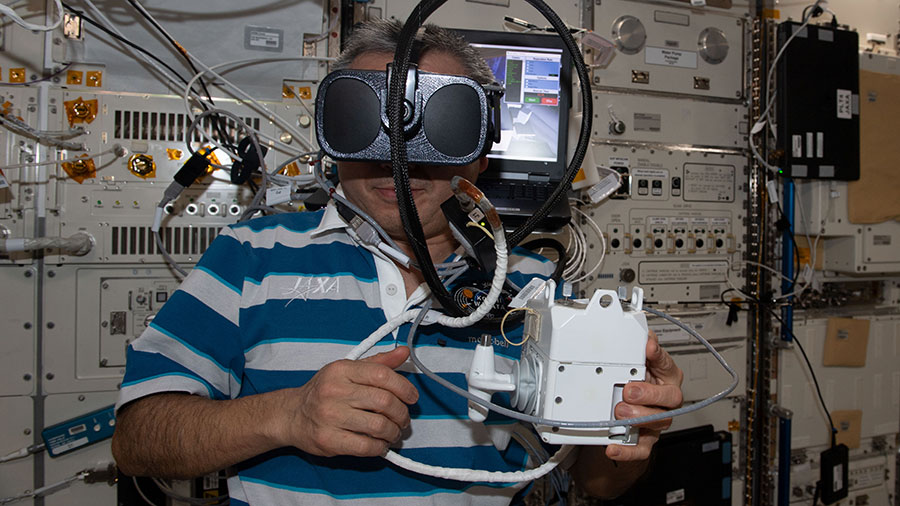 The first spacewalk of 2023 will begin on Friday to continue upgrading the International Space Station's power generation system. The Expedition 68 crew members finalized preparations today for the excursion while continuing advanced space research and orbital lab maintenance.
Astronauts Koichi Wakata of the Japan Aerospace Exploration Agency (JAXA) and Nicole Mann of NASA are due to spend about six-and-a-half hours working outside the station during a spacewalk on Friday. The two flight engineers will turn the batteries on inside their Extravehicular Mobility Units (EMUs), or spacesuits, at 8:15 a.m. EST signifying the start of a six-and-a-half hour spacewalk. The duo will work on the far end of the station's starboard truss structure in their EMUs and install a modification kit enabling the future installation of a roll-out solar array. NASA TV, on the agency's app and website, will begin its live spacewalk coverage at 7 a.m.
Wakata and Mann were joined on Thursday by NASA Flight Engineer Frank Rubio for final spacewalk preparations. The two spacewalkers along with Rubio staged tools and hardware inside the Quest airlock during the morning. The trio then spent the afternoon reviewing spacewalk steps and procedures before readying the two spacesuits for operations.
NASA Flight Engineer Josh Cassada focused on science activities throughout Thursday conducting biology and physics research. Cassada began his day in the Kibo laboratory module setting up the Life Science Glovebox to observe biological samples and explore new ways to heal bone conditions on and off the Earth. In the afternoon, he moved over to the Destiny laboratory module exchanging samples inside the Materials Science Research Rack for a study exploring semiconductor crystal growth in space.
The orbiting lab's three cosmonauts kept up their schedule of ongoing microgravity research and lab upkeep on Thursday. Commander Sergey Prokopyev packed the ISS Progress 81 resupply ship with trash and discarded gear before more conducting more tests on a 3-D printer monitoring the device for excessive noise. Flight Engineer Dmitri Petelin spent all day Thursday servicing life support hardware and electronics gear. Flight Engineer Anna Kikina began her day with a hearing assessment then checked radiation detectors before finally studying future spacecraft and robotic piloting techniques on a computer.
---
Learn more about station activities by following the space station blog, @space_station and @ISS_Research on Twitter, as well as the ISS Facebook and ISS Instagram accounts.
Get weekly video highlights at: https://roundupreads.jsc.nasa.gov/videupdate/
Get the latest from NASA delivered every week. Subscribe here: www.nasa.gov/subscribe