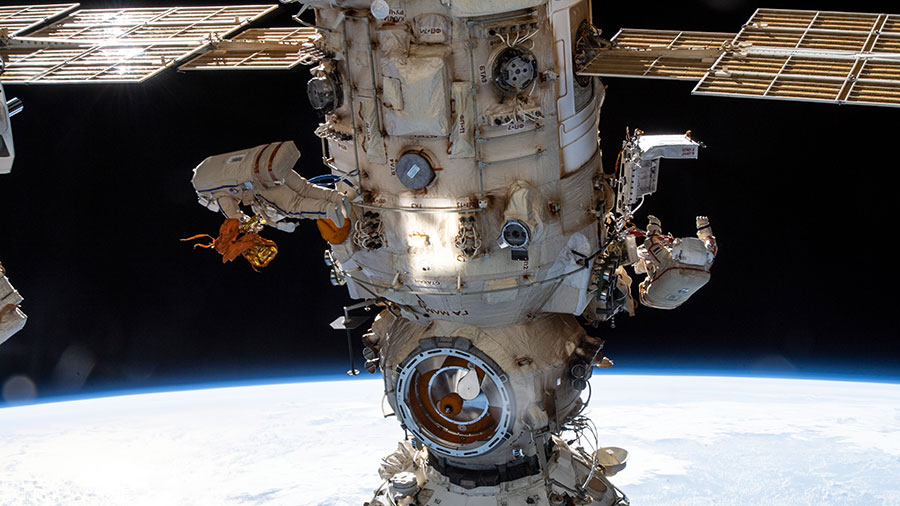 Healing wounds in space and growing crops in low-Earth orbit and beyond were the main research topics aboard the International Space Station on Thursday. Meanwhile, the Expedition 67 crew is also packing a U.S. cargo craft and preparing for a Russian spacewalk next week.
Two-time space station resident Kjell Lindgren of NASA set up hardware during the morning inside the Life Science Glovebox for a biology experiment studying how skin heals in weightlessness. He was joined in the afternoon by fellow astronauts Bob Hines and Jessica Watkins, both from NASA, and Samantha Cristoforetti of ESA (European Space Agency) for an experiment procedures review and a conference with the payload developer on the ground. Observations may provide insights improving wound healing techniques for astronauts and Earthlings.
Hines and Watkins began their day drawing their blood samples, spinning them in a centrifuge, then stowing them in a science freezer for later analysis. Hines then inspected seeds and recirculated fluids for the XROOTS botany study growing mizuna greens and radishes to explore agricultural techniques in space. Watkins later worked on orbital plumbing duties inside the Unity module.
Cristoforetti began her day servicing research gear as she downloaded Acoustic Monitor data to a laptop computer then swapped components on a fluorescence imaging microscope. At the end of the day, she continued stowing cargo inside the SpaceX Dragon resupply ship readying it for its return to Earth later this month.
Cosmonauts Oleg Artemyev and Denis Matveev are gearing up for another spacewalk on Aug. 17 to prepare the European robotic arm (ERA) for operations on the station's Russian segment. The duo has been readying their Russian Orlan spacesuits, spacewalking tools, and the Poisk module's airlock for next week's planned six-and-half-hour spacewalk. Flight Engineer Sergey Korsakov, who will assist the spacewalkers next week, is also configuring the ERA for the upcoming excursion, which would be this year's seventh spacewalk.