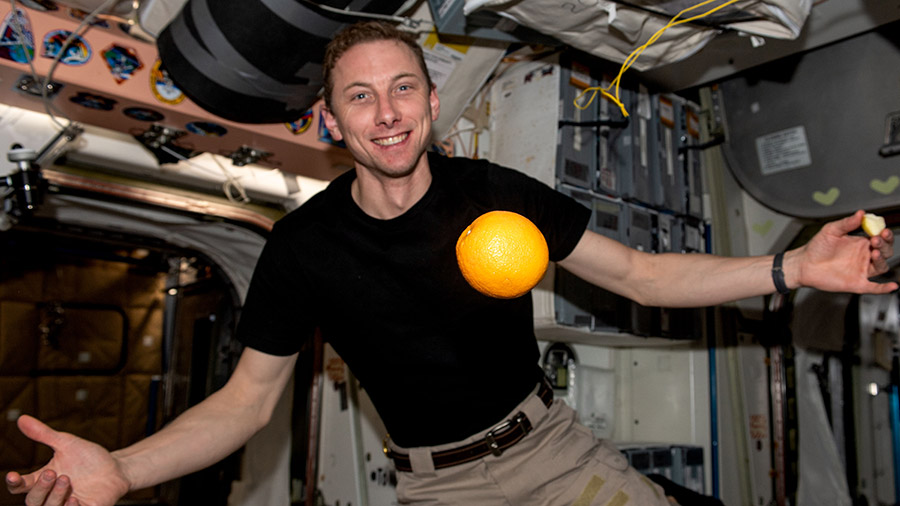 Three Expedition 69 crew members are training to take a short ride around the International Space Station and move their Soyuz crew ship to another docking port later this week. The rest of the orbital residents focused on pharmaceutical studies, space physics, and biology research at the beginning of the week.
NASA Flight Engineer Frank Rubio joined Roscosmos cosmonauts Dmitri Petelin and Sergey Prokopyev on Monday and practiced on a computer the procedures to relocate the Soyuz MS-23 crew ship to a new docking port. The trio will enter the MS-23 and undock from the Poisk module 4:42 a.m. EDT on Thursday and maneuver to the Prichal docking module about 38 minutes later.
Petelin and Prokopyev, station flight engineer and commander respectively, also readied the Nauka multipurpose laboratory module, to which Prichal is attached, for the upcoming Soyuz relocation. Rubio finished his day working on orbital plumbing tasks and analyzing water samples for microbes.
The station's other four residents spent Monday on a variety of microgravity research learning how to stay healthy on long-term space missions while also benefitting humans on Earth. The weightless environment of the space station offers unique insights impossible in Earth's gravity potentially offering advanced solutions benefitting humans on and off the Earth.
NASA Flight Engineer Stephen Bowen attached breathing gear and sensors to himself then pedaled on the station's exercise cycle at the beginning of his day. Doctors use the data from the exercise session to evaluate an astronaut's aerobic fitness during a space mission. In the afternoon, Bowen then serviced samples for a study exploring using microbes to produce food and pharmaceuticals in different gravity levels.
NASA Flight Engineer Woody Hoburg spent his Monday morning tending to a life science study to understand how the human body adapts to weightlessness. Afterward, he and Bowen partnered up for more cargo work in the SpaceX Dragon resupply ship. Hoburg then scanned the eyes of Bowen at the end of the day using standard medical imaging gear found in an optometrist's office on Earth.
UAE (United Arab Emirates) Flight Engineer Sultan Alneyadi focused his science activities on the Foam and Emulsions physics experiment that may lead to newer, more advanced space research and expanded commercial opportunities in space. Roscosmos Flight Engineer Andrey Fedyaev began his day photographing wildfires on Earth before spending the rest of his shift on ventilation maintenance inside Nauka and the Zvezda service module.
---
Learn more about station activities by following the space station blog, @space_station and @ISS_Research on Twitter, as well as the ISS Facebook and ISS Instagram accounts.
Get weekly video highlights at: https://roundupreads.jsc.nasa.gov/videupdate/
Get the latest from NASA delivered every week. Subscribe here: www.nasa.gov/subscribe