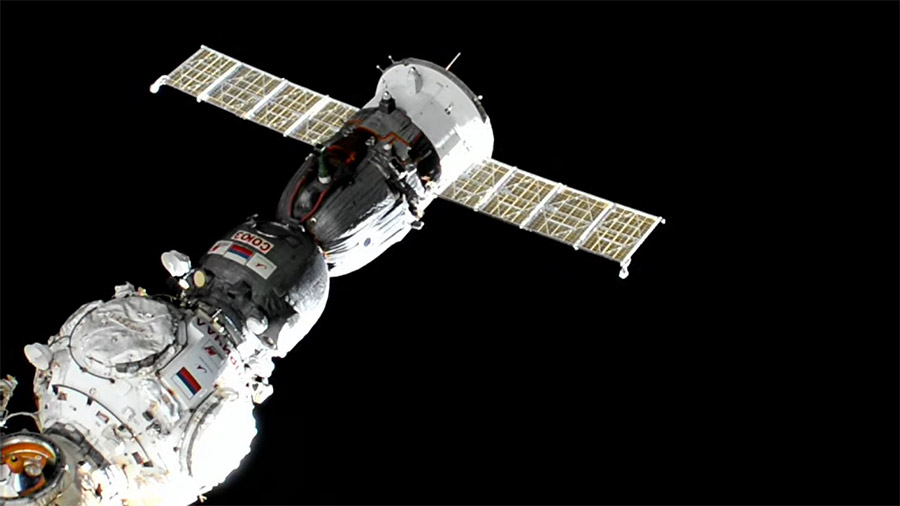 Three Expedition 69 crewmates are relaxing today after relocating their Soyuz crew ship to another port. Meanwhile, the other four International Space Station residents continued a variety of space research while maintaining orbital lab systems. Axiom Space also announced its second private mission to the orbital outpost.
NASA Flight Engineer Frank Rubio took a 37-minute ride inside the Soyuz MS-23 crew ship Thursday morning alongside Roscosmos cosmonauts Sergey Prokopyev and Dmitri Petelin. The trio undocked from the Poisk module at 4:45 a.m. EDT and docked to the Prichal docking module, on the opposite side of the station, at 5:22 a.m. The relocation maneuver opens up Poisk's airlock for a series of upcoming spacewalks in Orlan spacesuits and frees its docking port for the ISS Progress 84 resupply mission.
After a couple of hours of pressure and leak checks, the Soyuz and Prichal hatches opened with assistance from Roscosmos Flight Engineer Andrey Fedyaev. Rubio, Prokopyev, and Petelin then reentered the station, completed some Soyuz closeout tasks, and went to sleep early. They will be back on duty Friday for ongoing microgravity research and upcoming mission preparations.
Two NASA astronauts spent Thursday continuing their research into how living long-term in weightlessness changes the human body. NASA Flight Engineers Stephen Bowen and Woody Hoburg have been teaming up for the biology study before its return to Earth aboard the SpaceX Dragon resupply ship later this month. Scientists on the ground will use the observations to learn how to counteract space-caused symptoms and keep astronauts healthy as NASA prepares for human missions to the Moon, Mars, and beyond.
UAE (United Arab Emirates) Flight Engineer Sultan Alneyadi spent his day on a pair of different experiments studying both space physics and biotechnology. Alneyadi first swapped sample hardware inside the Materials Science Laboratory's low gradient furnace that supports research into new applications for existing materials or new and improved materials. Afterward, the UAE astronaut peered through a microscope at protein crystals for the Monoclonal Antibodies study that may improve the development of drugs on Earth.
Fedyaev, who earlier assisted his crewmates during their Soyuz relocation, worked on ventilation maintenance inside the Zvezda service module. He ended his day inside the Nauka multipurpose laboratory module inspecting and photographing cables.
Axiom Space announced its next private astronaut mission to the space station today. The Axiom-2 crew is, retired NASA astronaut and Mission Commander Peggy Whitson, Pilot John Shoffner, and Mission Specialists Ali Alqarni and Rayyanah Barnawi, all three first-time space flyers. Axiom-2 is targeting a launch to the station no earlier than 10:43 p.m. EDT on May 8 aboard a SpaceX Crew Dragon spacecraft.
---
Learn more about station activities by following the space station blog, @space_station and @ISS_Research on Twitter, as well as the ISS Facebook and ISS Instagram accounts.
Get weekly video highlights at: https://roundupreads.jsc.nasa.gov/videupdate/
Get the latest from NASA delivered every week. Subscribe here: www.nasa.gov/subscribe