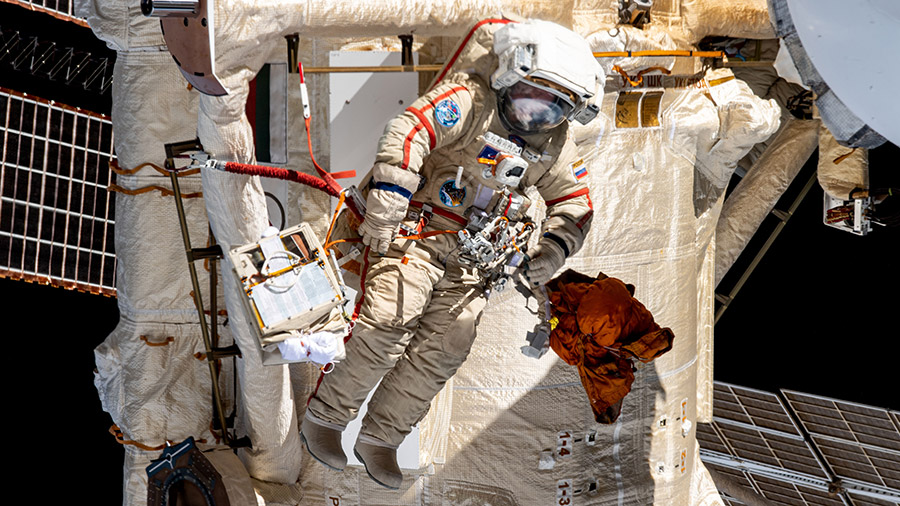 Two cosmonauts spent the day readying the spacesuits they will wear for a spacewalk scheduled for Friday. The rest of the Expedition 69 crew concentrated on eye exams, orbital lab maintenance, and human research aboard the International Space Station.
Commander Sergey Prokopyev and Flight Engineer Dmitri Petelin are getting ready for their third spacewalk together since April set to begin on Friday. They will exit the Poisk airlock at 11:55 a.m. EDT in their Orlan spacesuits and translate toward the Nauka science module to deploy and activate a radiator they installed on April 19 during a previous spacewalk. NASA TV, on the agency's app and website, will begin its live spacewalk coverage at 11:30 a.m.
The duo spent Wednesday inside Poisk setting up their Orlan spacesuits for the planned six-plus-hour spacewalk. They checked the suits for leaks, then installed batteries, helmet cameras, and other communications gear on the Orlans. Prokopyev and Petelin coordinated the suit checks with mission controllers ensuring the suits were in operating condition and suit data was being received on the ground.
NASA Flight Engineer Stephen Bowen and Frank Rubio worked on a pair of different spacesuits, the Extravehicular Mobility Units (EMUs), deconfiguring them for stowage in the Quest airlock. The two astronauts took turns dumping water and cleaning cooling loops inside the two EMUs that were worn by Bowen and UAE (United Arab Emirates) astronaut Sultan Alneyadi during a spacewalk on April 28.
At the end of the day, Bowen joined Alneyadi for eye checks using standard medical imaging gear patients on Earth would find in an optometrist's office. Alneyadi and NASA Flight Engineer Woody Hoburg partnered together throughout Wednesday servicing station module hatches and power supply systems. The pair first inspected the Unity module's top hatch that connects to the orbital lab's Z1 truss. Next, Alneyadi went on and inspected and cleaned the rest of the hatches in the station's U.S. segment. Hoburg moved on and installed an antenna power supply system with its two power cables inside the Tranquility module.
Roscosmos Flight Engineer Andrey Fedyaev conducted two different human research experiments on Wednesday. For the first experiment, Fedyaev attached sensors to himself then rested while his cardiac activity was recorded to understand blood pressure in microgravity. For his second experiment, Fedyaev wore a cap with electrodes that monitored his responses while practicing simulated spacecraft or robotic piloting techniques for future planetary missions on a computer.
---
Learn more about station activities by following the space station blog, @space_station and @ISS_Research on Twitter, as well as the ISS Facebook and ISS Instagram accounts.
Get weekly video highlights at: https://roundupreads.jsc.nasa.gov/videupdate/
Get the latest from NASA delivered every week. Subscribe here: www.nasa.gov/subscribe