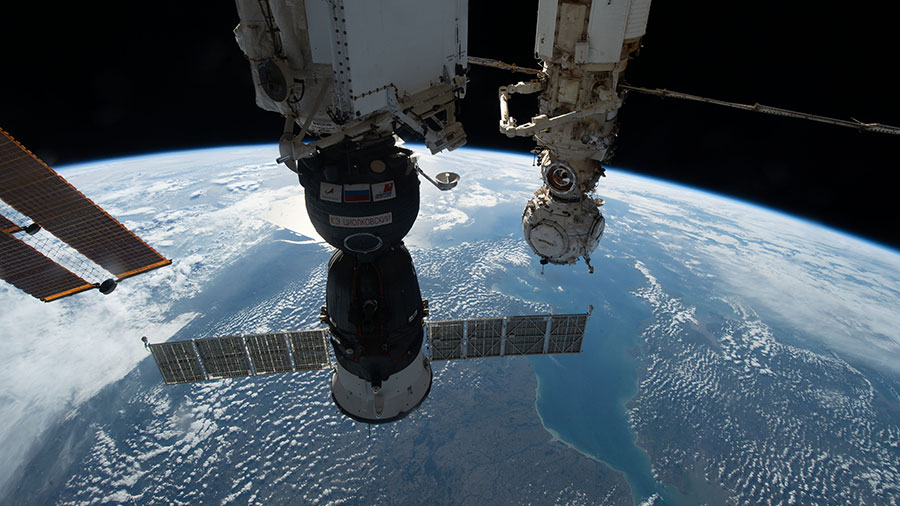 An uncrewed Soyuz crew ship will depart the International Space Station on Tuesday morning. In the meantime, the seven-member Expedition 68 crew focused on new science experiments and hardware recently delivered aboard the SpaceX Dragon cargo vehicle.
Three space station residents who arrived at the orbiting lab on Sept. 21 last year aboard the Soyuz MS-22 crew ship will continue their stay in space after their spacecraft departs without them at 5:57 a.m. EDT on Tuesday. The passengerless vehicle will parachute to a landing in Kazakhstan less than two hours later completing a six-month mission docked to the Rassvet module. NASA will provide live coverage only of undocking activities beginning at 5:30 a.m. on  NASA TV,  the agency's app and website..
Station Commander Sergey Prokopyev with Roscosmos Flight Engineer Dmitri Petelin and NASA Flight Engineer Frank Rubio are extending their stay in space for a yearlong mission. The trio is due to return to Earth inside the Soyuz MS-23 crew ship, which arrived unoccupied in February, at the end of summer.
Meanwhile, the station's crew members have begun activating new science experiments and servicing spacesuit gear delivered aboard the SpaceX Cargo Dragon vehicle on March 16.
NASA Flight Engineer Stephen Bowen worked in the Kibo laboratory module setting up biology hardware that will house samples exposed to artificial gravity to potentially treat muscle and bone issues on Earth and in space. Flight Engineer Woody Hoburg processed samples for a study exploring ways to produce new pharmaceuticals in space and isolated locations on Earth. UAE (United Arab Emirates) Flight Engineer Sultan Alneyadi unpacked a new spacesuit, or Extravehicular Mobility Unit (EMU), inside the recently-arrived Cargo Dragon space freighter.
Rubio checked on components inside the Fluid Science Laboratory located in the Columbus laboratory module before continuing to unload some of the 6,200 pounds of cargo packed inside the Cargo Dragon. Prokopyev readied the MS-22 for its undocking early Tuesday while his fellow cosmonauts Petelin and Andrey Fedyaev worked on normal orbital plumbing and lab maintenance tasks.
---
Learn more about station activities by following the space station blog, @space_station and @ISS_Research on Twitter, as well as the ISS Facebook and ISS Instagram accounts.
Get weekly video highlights at: https://roundupreads.jsc.nasa.gov/videupdate/
Get the latest from NASA delivered every week. Subscribe here: www.nasa.gov/subscribe